Whether you are fan of dressing a bit androgynously or not, every woman no matter her shape or size or even how big her wardrobe is, should own at least one shirt. Shirts are one of the most practical things that you can own since there are so many ways to style them and they will flatter out any figure by slimming us a bit and by helping to give us the illusion of a perfect hour glass figure. Even fuller busted ladies shouldn't fear ever getting a shirt that doesn't gape or that isn't baggy everywhere since there are not only specialist brands, but a good tailor or seamstress can really perform wonders. This summer the shirt trend is stronger than ever with various designs being spotted all over the high street from those with cold shoulders to front-tie cropped ones. So make sure that you're tapping into this trend and check out these gorgeous shirts that we love right below.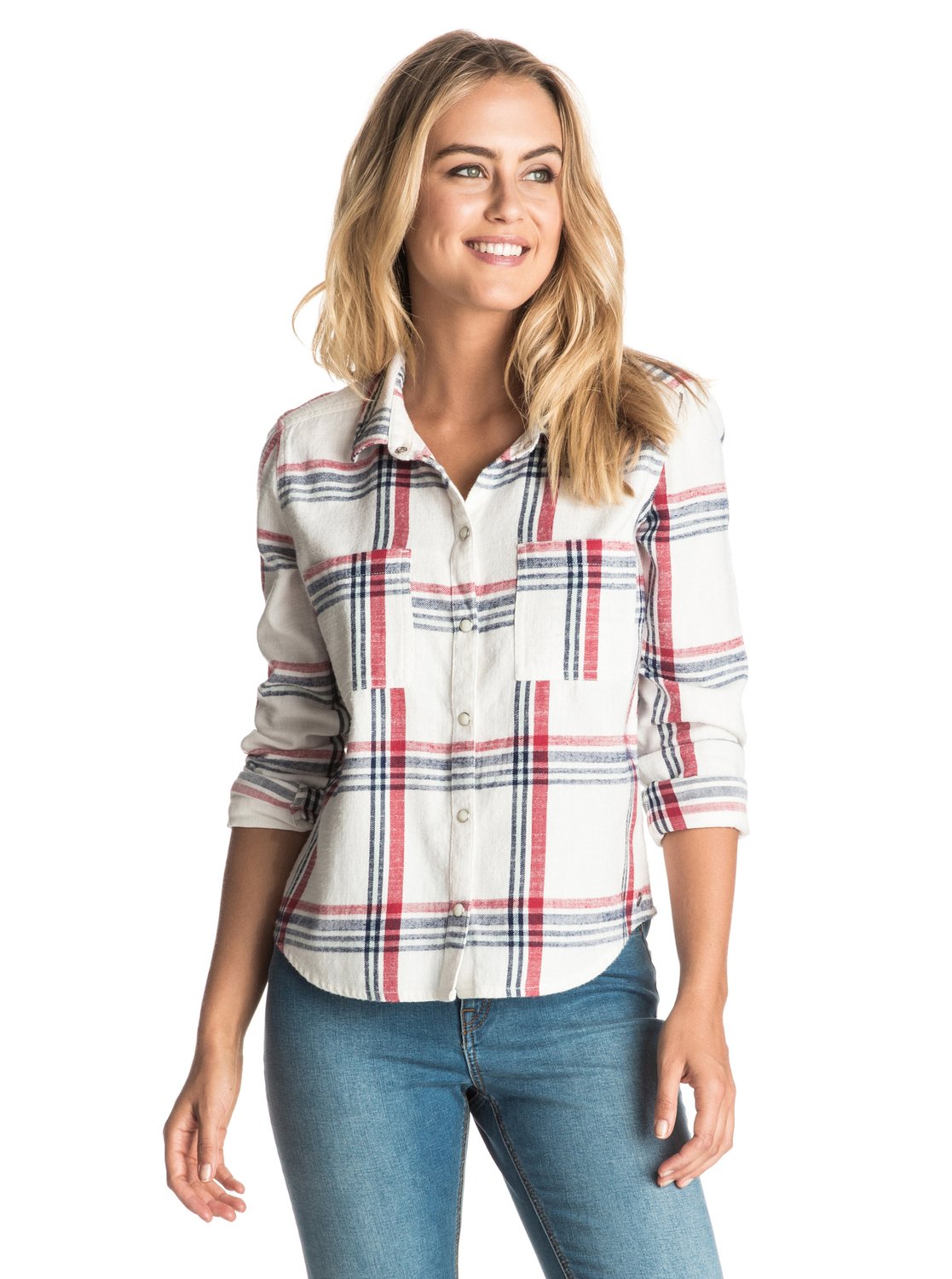 A lovely and laidback plaid shirt is also the epitome of country fashion with it being reminiscent of cow-girls, ranches and home home on the range, so why not embrace a bit of prairie chic this summer thanks to this gorgeous number from sports and outdoor brand Roxy. The simple white, red and blue checked design is absolutely gorgeous and uncluttered and will show off your summer skin to perfection. While it is still obviously in a classic shirt shape, it is slightly shorter than usual which means that it taps into the current top fashion mania for all things cropped. Add to this the 2 masculine front pockets and you have a practical shirt that will look great thrown over some simple blue jeans and a pair of flip-flops. You can get it online at Roxy for £50, but keep an eye out for flash sales and discount codes!
There is nothing quite like wearing a denim shirt when summer does roll around, and they can look effortlessly chic and put together even if you do decide to rock some double denim in your style. And just like with a lovely plaid shirt, you can be certain that a denim shirt will simply always be in style particularly in the spring and summer months. With such a huge amount of choice to pick from you really don't have to blow the budget on a denim shirt, so we love this from high street giant H&M. With cute buttons as well buttoned front pockets it is an easy to wear shirt that you'll find super practical.
If you like items of clothing in your wardrobe that are just a little bit more unusual, then this gorgeous and stunning pin-stripe oversized shirt from Spanish brand Zara is the piece for you. With a funky tie at the collar on the back and seriously sexy androgynous silhouette, this shirt will look great with some bright blue skinnies and your trainers for a city chic look that is easy to put together this summer. It also costs £19.99.