So let's face it, even though most of us are dreaming of a long, hot and basically fantastic summer, thanks to the somewhat temperamental weather of the British Isles we can never be 100% sure what the weather will bring for the season ahead, no matter what the weathermen promise us! One thing that you can be certain of though is that at some point even during the summer it will be less than baking hot and that a pair of summer jeans will be a wise investment to make and could even last your style through to autumn if we're blessed with an Indian summer!
Luckily the fashion retailers seem to realise our practical attachment to our jeans and have produced some absolutely gorgeous pairs that we are only sad that we can't wear year round! With so many pretty summer styles and motifs it can be difficult to know what to choose, so we've complied this little list of fun and stylish summer jeans to help you out of your wardrobe conundrum so read on to find them out.
A pair of comfy cropped jeans is always a great purchase to make when spring and summer finally roll round to some better weather and bright pastels are once again a big trend this season, so why not combine the best of both worlds with this gorgeous pair of jeans from classy high street retailer Dorothy Perkins. This pair is actually jegging jeans meaning that you can enjoy all of the coverage and style of a jean whilst still getting all the benefits of a pair of the comfiest leggings. These will look great with either your trainers, some blinged out flip-flops or even with a pair of massive platform wedges that will really get heads turning. Even better, they are a complete bargain costing just £16!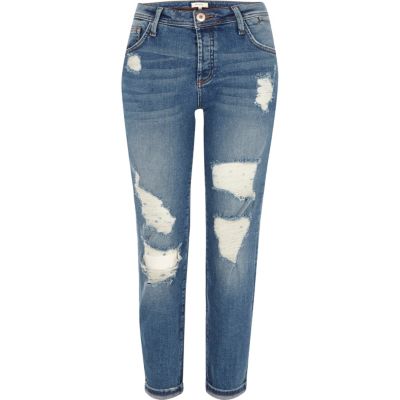 Another classic when it comes to summer jeans is a pair of loose boyfriend style jeans with lots of raggedy holes that still show off just the right amount of tanned leg. In the summer time we don't have to think so seriously of practical concerns such as warmth and whether or not they're going to get dirty thanks to the bad weather too, so a classic bright blue denim will achieve a grungy 90s surfer look with ease whether you at the supermarket or down the beach. This lovely and relaxed ripped boyfriend pair come from River Island and cost £42.
And finally for a fun 70s vibe that will have you feeling like you are a member of Charlie's Angels, how about buying yourself a pair of gorgeous and quirky flares. In summer there is no fear that they will suck up water from puddles unless you are really unlucky, and there will look great with a flirty and feminine summer top and some killer platform wedges too! Priced at £49.95, these come from chic and upbeat Italian brand Benetton and will really flatter any figure too!