It doesn't happen very often unless you happen to be a celebrity, (in which case you'll be getting your dress for free!), but every once in a while we will all find ourselves invited to or attending a swanky evening do that requires full evening dress. This is one of those perfect opportunities to really glam yourself up and to show off just how great you can look with a fantastic dress, stunning jewellery and of course some incredible shoes. One of the great things about an evening dress is that it tends to be less susceptible to the whims of the fashion world, and even though you may only wear it once or twice, you can be sure that it will always look great. Whatever your size or shape, there is a drop dead gorgeous evening gown out there for you, so check out some of these lovely picks right here for a bit of inspiration.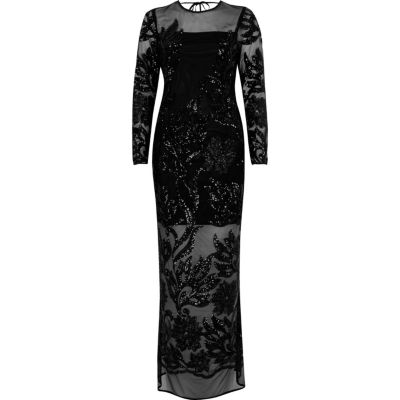 Black, lace and sequins are a winning combination when it comes to a stunning yet classy evening dress and this beautiful number from high street brand River Island shows that you don't always have to go straight for the designer labels to get a gorgeous dress that looks wonderful. The see-through floral lace mesh lets you show off your figure and curves without revealing too much, whilst still being alluringly sexy. Add to this the lovely long lace sleeves and the beautiful backless top of the dress, and you have a stunning dress that will really stand the test of time. Even better, thanks to its simple shape and lovely sequinning, you can accessorize this dress as you like with loads of ostentatious jewellery or none, tousled hair or an elegant up-do, and classy court shoes or glittering open-toe sandals. The choice really is yours. It is available in UK sizes 4 to 16 and costs £110.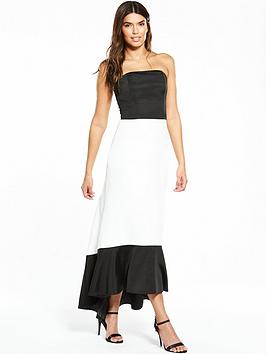 Black and white together are always going to be in fashion, as are strapless bandeau tops for evening wear, so this flouncy dress from V by Very is a classically elegant number to sport on a big night out. The high to low hem is a fashionable one that will however stand the test of time, and if you are a shoe-aholic who loves showing off a gorgeous pair of heels, then this would be the ideal dress for you. Currently priced at £64, it is available in an impressive range of sizes from 8 to 24, so if you're interested, get clicking! Check out a Very discount code first though to get the best deal for you.
And finally, for a show-stopping dress that is reminiscent of the beautiful evening dresses of the 1930s, we are in love with this fuchsia gown from designer Ted Baker. From the delicately bejewelled straps and waist detail to the gorgeously full pleats, this dress really does this glorious! Wear your hair up or half down half up to show off the beautiful straps, and know that you'll look like the belle of the ball. It costs £499, and is available in sizes 4 to 16.